Be aware that you will encounter heavy spoilers ahead!
This is a wiki that archives the events that happen in the Rave Master Series; heavy spoilers can be easily spotted, policies must be followed, and you will always have a chance to edit an article.
---
| | | |
| --- | --- | --- |
| | The Rave Master Wiki is a website dedicated to providing resourceful information to the readers of the Rave Master Manga created by Hiro Mashima, and the anime produced by Studio Deen. We are currently managing over 703 Articles on this wiki. Help us polish our articles to their maximum potential by joining our community! | |
Featured Article
Oración Seis
Oración Seis is a group of the six most powerful warriors and leaders in the terrorist organization known as Demon Card.
The group was initially composed of Shuda, Reina, Jegan, Berial, Haja and Julius. After Shuda defected, his vacant spot was filled by Deep Snow.
(more...)
Final Manga Chapter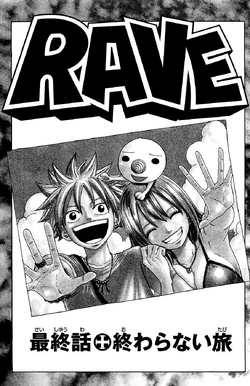 Epilogue: Epilogue: The Endless Journey
Spoiler alert! Read at your own risk!
---
One year after the destruction of Endless, Elie, who has lost her memory once again after killing Haru Glory, seems to have started living a normal life along with everyone else. The Rave Warriors start gathering around the site where Haru had died in order to remember him. However, the earth starts breaking and from the crumbles, Haru appears. Everyone is surprised and Elie starts remembering him. They then return to Cattleya's house, where they marry along the companionship of their friends.
Read the full summary Epilogue: The Endless Journey.
Final Anime Episode
---
The Vow to the Future
---
The Rave Warriors find themselves within an advance spellbound barrier, secluded from the rest of Symphonia. They send Elie to venture deeper into the forest in order to reclaim her memory. Meanwhile, the Oración Seis returns to their headquarters, where they are greeted by their new commander: Lucia Raregroove, Gale Raregroove's son. As the teen claims his throne, the Oración Seis readies for the future.
Affiliated Sites
If you would like to become an affiliate of the Rave Master Wiki contact Whiteknight.
Featured Picture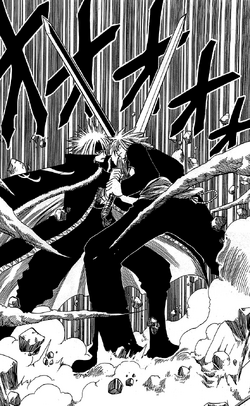 Clashing Titans!
Featured Quote
"
Just what do you know about lady Resha? Any further comments of this nature will be considered treason against the kingdom
"

—Alpine Spaniel, Knights of Kingdom part 2
Related Sites
Official Sites
Rave Master MangaJpn - Shōnen Magazine's official Rave Master site with latest updates on manga and its releases.
Rave Master AnimeJpn - TV Tokyo's official Rave Master site with up-to-date information on anime and its releases.
General Sites
Did You Know?
...that Feber made a brief appearance on a chapter cover, going on a date?
...that Celia was inspired by Hiro's love of the summer?
...that Hiro's affinity is Wind?
Discord
If you see this, your JavaScript might be disabled or DiscordIntegrator plugin isn't working. If the latter, please contact a wiki administrator.
Quick News
Do you want the Rave Anime to return?
With 191 votes, people want the anime to return!!!
| Position | Team | Votes | Percent |
| --- | --- | --- | --- |
| 1 | Yes | 191 | 97.95% |
| 2 | No | 4 | 2.05% |
Recent Blogs
Hello i'm GotMilk5101520 or GM or Mliky chan or however you like to call me. i have signed up to Fairy Tail Wiki for almost a month now and i have been in the Rave Master mood lately and there are some things that i feel like they have not been answered and they are :
After the whole Etherion thing Haru promise Elie something... what was that promise? what did he promised her? and because of YouTube i have been thinking dirty about that "promise"
After Reina's Death Haru told Ruby about who would be the third Rave Master... who was this "third" Rave Master he said?
i'm still trying to catch up on Rave Master am on vol 28. if these questions were answered then let me know i like to know (and i feel these were never answered) well that is it f…
More recent Blogs...