Lievre is a member of Blue Guardians' Six Guards.
Appearance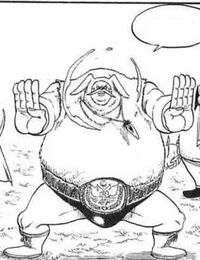 Lievre is a large, mustachioed man. He wears a hare costume, briefs with a pompom and boots.
Personality
Lievre is a perverted man. He also thinks that women are weak until Julia defeats him.
Synopsis
Lievre appears with all the others at the gate. After Leopard distracted Haru's gang, he blasts them all to Yuma's base. Then he fights Julia and thinks that she is really weak, thinking women in general are weak, but Julia proves the opposite and defeats him, breaking his neck. He later returns after being healed from his wounds only to be defeated by Haru with one single attack, breaking Lievre's neck again and destroying Lievre's Dark Bring. Lievre then faintly says to Haru where Hardner is.
Battles and Events
Haru, Hamrio Musica & Let vs. Leopard & Lievre
Siege of the Liberation Army's base
Julia vs. Lievre
Haru vs. Lievre
Trivia
Each member of the Six Guards is named (and themed) after a particular animal, with the nouns in their French form. "Lievre" is French for "Hare"; Lievre's hare costume and pompom on his trunks are reference such animal.
Community content is available under
CC-BY-SA
unless otherwise noted.