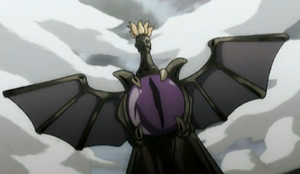 The Dark Bring (ダークブリング, Daaku Buringu) (Shadow Stones in the English dub, DB for short) are the evil magical stones scattered across the world of Rave Master. These stones are harnessed by many antagonists in the series, while centered around the Demon Card organization, later becoming the revived Raregroove Kingdom.
Description
They generally take the form of dark purple stones of any size and shape (some had even been accessorized by their owners into various ornaments) that steadily give off a faint purple to pinkish glow from time to time.
Powers and Abilities
All Dark Bring Stones are unique in which each houses a different superpower; this unique power varies from person to person some of which had been shown to be a manifestation of the wielder's will or inherent strength. Each of them is given significant names in relation to their respective powers.
Based on their level of power, Dark Brings are separated into different groups and ranks. If the Dark Bring is repetitively used too much, it will corrupt the user, although not necessarily turns them evil.
The true source of the Dark Brings' power all connect to Endless, whose existing purpose is to destroy all parallel worlds.
Purification
It is not impossible for Dark Brings to be "purified", as Reina's White Kiss becomes fused with Musica's silver as a testament of their love and bond. Furthermore, Ravelt is formed from the union of Musica's silver and Reina's "purified" Dark Bring. At some instances where Reina's spirit appear alongside Musica, White Kiss is seen adorning her left arm. "Purified" Dark Brings' connection to Sinclair/ Endless are also severed as a result, and they provide immunity towards other Dark Brings' power, even Mother Dark Brings, as Girafe is unable to twist Musica's silver spear with his Dark Bring, and Doryu is unable to use Vampire on the same weapon, much to the shock of both. When Endless is destroyed, all Dark Brings across the world shatters in the blink of eyes while White Kiss remains intact on Musica's silver skull necklace.
Weaknesses
Dark Brings are indestructible by any conventional means including any weaponry and magic. General Jeid mentioned that even the Empire's most powerful weaponry are unable to even scratch a single one.[1] They can only be destroyed by three methods confirmed.
The Rave Stones: Only the holy power of the Rave can destroy them
Plue's nose: For unknown reasons.
The will of Mother Dark Brings.
List of Dark Brings
Still in Progress
Other
References
Community content is available under
CC-BY-SA
unless otherwise noted.